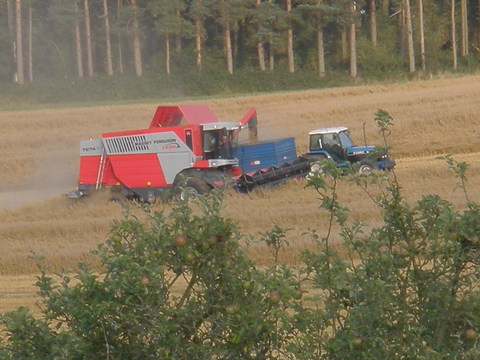 Outdoor Learning Experiences
Engaging children with nature
We offer activities to support learning and engagement with the natural environment for all ages. Activities take place throughout the year, and include farm visits, forest school, outdoor science classes, and art in the woods.
These activities take place at East Hall Farm, part of the St. Paul's Walden Bury Estate. This historical estate comprises a mixed farm of cereal crops and beef cattle, a walled garden containing an old fruit orchard and commercial vegetable production, and woodlands (old and established, as well as newly planted). This environment offers an opportunity to teach about conservation, wildlife, tree and hedgerow planting, and woodland management.
The farm has held the quality badge from the Council for Learning Outside the Classroom. Visits are run by a trained leader (CEVAS and Forest School level 3 qualified), and that the farm meets appropriate health and safety guidelines for hosting visits from school children. We offer pre-visits to teachers, during which we discuss specific learning needs to integrate the field trip with the classroom. We provide guidance on preparing to come to the farm, and assistance in preparing risk assessments. Visits to the farm are sponsored by Natural England's Educational Access scheme. For information about the cost of Forest school visits please e-mail. We receive visits through the Lottery-Funded Let Nature Feed your Senses programme of visits in conjunction with LEAF and the Sensory Trust.
We are 30 miles from London, close to the cities of Stevenage, St. Alban's, Luton, Hitchin, Harpenden, Welwyn and Hatfield. The farm is a member of LEAF (Linking Environment and Farming) and carries out a range of environmental countryside management schemes through DEFRA's countryside stewardship programme. We can offer a range of activities throughout the seasons, which can be tailored to our visitors' needs.
Further details are available at out environmental education website Outdoor Learning Experiences
To arrange a visit, please call 01438 871 948 or e-mail info@outdoorlearningexperiences.org or farm@stpaulswaldenbury.co.uk