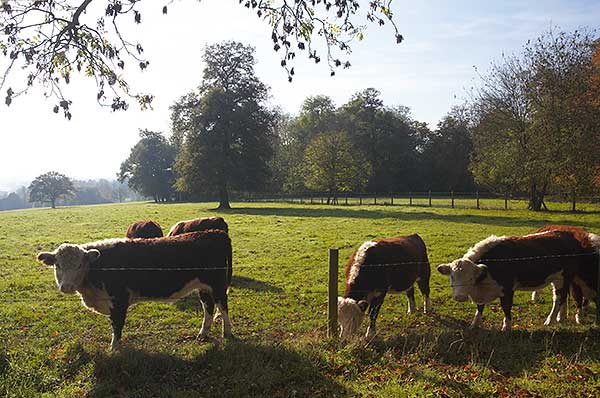 Farming and direct beef sales
Prime beef for sale in 10kg boxes.
Next delivery date to be announced

Farming
St Paul's Walden Estate, with Easthall Farm and Bury Farm, grows food while preserving the countryside. Supporting wildlife is a central aim with many areas prepared for supporting winter food for birds and nectar rich summer meadows for bees and other insects.
The woodland is managed to preserve ancient sites and also support new plantations. Hedges have been preserved and the landscape is a charming combination of rolling fields edged by woodland and hedges.
We grow a range of crops in a rotation with wheat, oats, beans and barley. We sell our oats to Jordan's Cereals and are one of their 40 farmers in the Jordan's Farm Partnership that commit to put al least 10% of their land in wildlife areas. The grassland is grazed by a herd of Sussex cows eat grass silage and straw in the winter months. Our mob grazing system aims to improve soil conditions and avoid use of artificial fertilisers.
The arable year starts in the autumn when fields are drilled (seeded). In early spring any unfinished drilling is completed, crops are rolled and fertilised. In May the first cut of silage grass is taken. Harvesting other crops with the combine is done from July to September, depending on the weather.
Cows graze in the fields from early April to the end of October, while the grass grows. All calves are born in the spring to take advantage of the fresh spring grass growth.
Direct Beef Sales
Beef is sold through a box scheme for local delivery. Reared on traditionally managed pastures, meat is hung for 28 days to ensure exceptional flavour. A box contains a selection of roasting joints and cuts: sirloin, rump, stewing, braising, mince. The beef is weighed, labelled and vacuum packed ready for the freezer (one drawer of an upright freezer)
£120 per box - weight minimum 22lbs (10kg.)
Fillet sold separately at £40 per kg

Sales are made on a 'collection only' basis, with payment upon collection.
For further information, or to join our customer list, email spw.beef@gmail.com