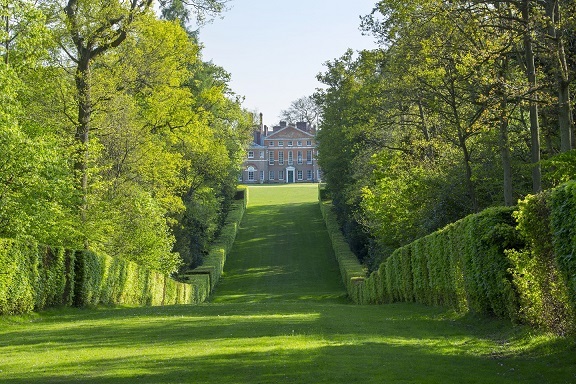 St Paul's Walden Bury, Hitchin SG4 8BP
Celebrated 18th century Landscape Garden, home of Queen Elizabeth the Queen Mother
5 miles south of Hitchin, Hertfordshire, on B651
This charming small stately home was the English home of Queen Elizabeth the Queen Mother, Lady Elizabeth Bowes Lyon until she married. The 9th of 10 children, her brother's descendants now live here. A tour of the house includes the beautiful 18th century hall and drawing rooms, now used for concerts and weddings.
The house was built about 1720 by Edward Gilbert, whose notorious grand daughter Eleanor Bowes married John Lyon, Earl of Strathmore. Hence the name Bowes Lyon.
The beautiful garden covering more than 50 acres is based on a classical formal design, and the original patte d'oie (goose foot) architecture has been retained. Long avenues lead to temples, statues, lake and ponds. More recent flower gardens bloom in spring and summer, with beautiful displays of magnolias, rhododendrons, irises, lilies. Wild flowers are encouraged, especially cowslips, bluebells, spotted orchids.
The surrounding estate, with its arable and livestock farm and its ancient woodland, is a traditional country estate set in the heart of the beautiful Hertfordshire countryside.

See menu on the left for links to Weddings and other activities.