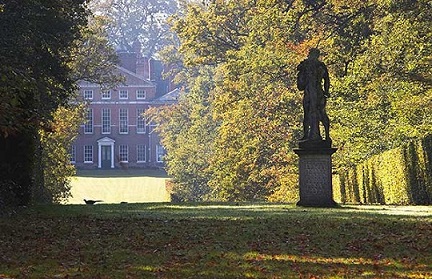 St Paul's Walden Bury SG4 8BP
5 miles south of Hitchin, Hertfordshire, on B651
A celebrated Grade I listed landscape garden, laid out in the early 18th century, covering about 50 acres. Long avenues and rides lead to temples, statues, lake and ponds. Childhood home of the Queen Mother.
Sunday 15 March 7pm
FLANDERS AND SWAN
"A delightful evening of musical hilarity"

Sundays 26 April, 17 May, 7 June, 2 - 7 pm.
Home made teas.
The house and garden can also be visited by appointment, £15.00, Garden only £7.50. Please use contact form on the left with suggested dates
There is a licence for Civil Ceremonies, or similar events, in the house or in one of the temples in the garden. See links on the left.
To St Pauls Walden Bury … to wander round one of England's most romantic gardens. The oaks and ashes are joyfully green against an azure sky. Every plant is in improbable perfection; towering forest trees, magnolias in the infant innocence of pale flowers, rhododendrons of every hue, billowing white clouds of Siberian malus, ivory flowered dogwoods and wild service trees the size of oaks.
But this is a woodland garden disciplined by calm grass rides, arrow straight, turning your steps towards a statue, a pavilion, a grassy theatre overlooking a simple fountain. At one moment lilies distract you, at another the perfume of azaleas: all the spring garden pleasures are there, all the more intense for the calming effect of geometry and proportion, measured out in straight beech hedges.
Hugh Johnson, Hortus journal, Tradescant's Diary, 10 June 2013
The surrounding St Paul's Walden Bury Estate, with its arable and livestock farm and its ancient woodland, is a traditional country estate set in the heart of the beautiful Hertfordshire countryside